Blue Flag Beach in Halkidiki
Did you know? Alexandros Palace has been awarded with the Blue Flag for 24 consecutive years
What is the Blue Flag?
The iconic Blue Flag is one of the world's most recognised voluntary awards for beaches, marinas, and sustainable boating tourism operators since 1987. In order to qualify for the Blue Flag, a series of stringent environmental, educational, safety, and accessibility criteria must be met and maintained. It also proudly contributes to Sustainable Development Goals.
What Does a Blue Flag on a Beach Mean?
The Blue Flag is a certification given to beaches by the Foundation for Environmental Education (FEE). A beach that has been awarded the flag means that it meets the organisation's standards of environmental management. They are issued for one year to beaches and marinas of FEE member countries. Central to the ideals of the programme is the aim of connecting the public with their surroundings and encouraging them to learn more about their environment. As such, environmental education activities must be offered and promoted in addition to a permanent display of information relevant to the site in terms of biodiversity, ecosystems and environmental phenomena.
Is the Beach at Alexandros Palace Hotel Certified?
Greece is the 3rd country with the most blue flag beaches in the world and our sandy beach at Alexandros Palace is one of them! Located in Halkidiki, just a breath away from the blessed Mount Athos, Alexandros Palace has been awarded with the blue flag consecutively for 24 years since 2000.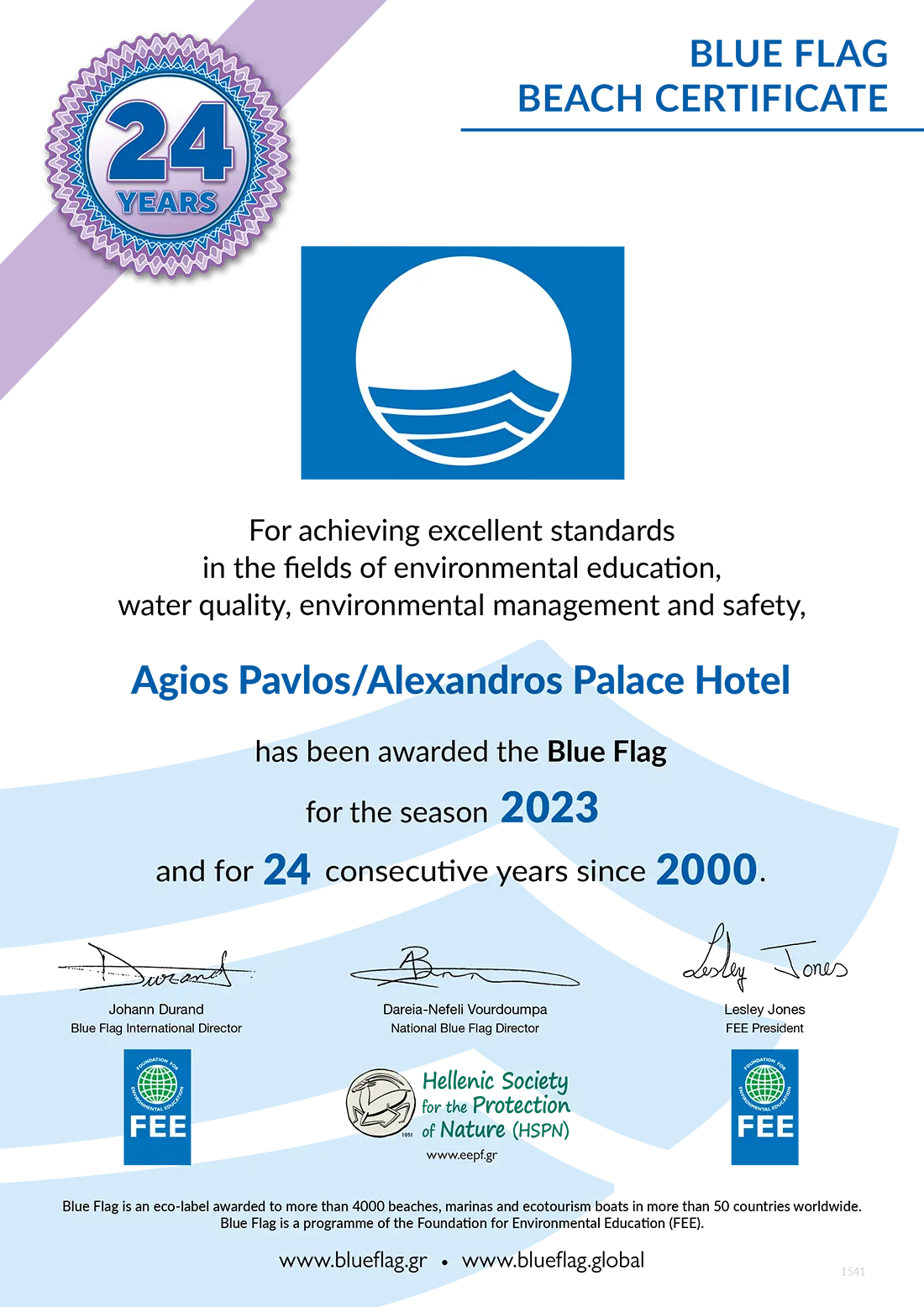 What is Its Mission?
To promote and participate in environmental education programmes for the users of beaches, marinas and boating operators. To implement sound safety and environmental management systems. To monitor environmental conditions to reduce the impact of human activity at the beaches, marinas and boating operators. To commit to partnerships and collaborative action to promote the sustainable development of tourism.